"Diesel Guns" – is a multiplayer old-school car combat game in the Twisted Metal, interstate 76 and Vigilante 8 style.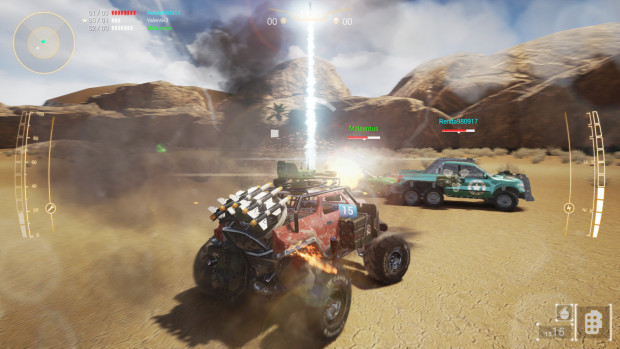 ---
First of all Welcome to Retrogamesmaster.
Thank you Peter and thanks everyone behind Retrogamemaster for all you do guys!
---
What is your first gaming experience?
The first video game i played was BattleCity on 8 bit nintendo. I remember as we sat spending many hours playing it until the pain in our fingertips)))
---
What got you into programming games?
Video games always have been the most important thing to me, when i couldn't play games i felt sad and i think after all these years of gaming the idea of becoming a game developer is quite obvious.  Now i can't imagine myself doing something else, and the same thing say my friends which are working with me.
---
What development tools or coding did you use?
We use Unreal Engine 4 which provides us with lot of useful tools so we can do more       work on the game itself than spending our time making the tools first. UE4 is free which is very important for indie developers.
We also worked with UDK and made 2 games on it: BugBug and Ballista:Stone Storm for ios.
---
What hurdles did you have making your current game?
There are three main negative things that every indie developer will have to face:
First is to keep up your enthusiasm. When you have made a couple of games that didn't become successful, when almost everyone says to you, that it's not gonna work, that you are only wasting your time that you could do something else, it's hard to keep going.
Second is that you will have to spend a lot of time fixing all these bugs and glitches that you will get in your game almost every time when you try to add something new in it or change something in your game. And the worst thing about fixing bugs is that you do it not because you like it but because you have to.)))
And third: when comes the time to tell people about your game and you have absolutely no financial resources to advertise it, you just go to each person and say: "hey dude i have made a game check it out!" and you would be happy to do that if everyone or every second you show your game would like it)))
---
After the completion of the game what game will you make?
Well, hard to say, it depends a lot on the success of the current game we are working on. But i can say what game would we like to make if everything goes well: it's an rpg game with a story telling style like Fallout 1,2, where you play as a guy who's been chosen to solve some local problem that later will grow into something much bigger. And with combat system where a lot depends on the player's skill, not only on your character's parameters.
---
What other games have you made?
First game we made was BugBug, a game for ios where you had to kill cockroaches with your fingers.
Second game was Ballista:Stone Storm, you had to destroy enemy ballistas and buildings.
---
My favourite computer was my Amiga and console the Megadrive do you have a favourite?
My favorite gaming platform is PC, even though when playing on consoles like PS or XBox you can lie on the sofa relax and enjoy the game, and play any game without care about technical requirements, on gamepad you never can do all these fast manipulations that you can do with mouse and keyboard. But still i would be happy to have all gaming platforms cause i love them all. ))
---
What is your favourite retro game?
I don't think i have some really favorite game at all, because there are sooo much games and they are so different and unique, both modern and retro games. But there still is the game that kept my heart beating as crazy "Driver 2" on PS1 nobody knows how much i loved this game, and nobody knows what happened to me when  "Kenny Rogers & The First Edition – Just Dropped In" began play in the final cutscene in Driver 2. )))
---
Do you still game on the current consoles if so what's your favourite game?
Of course i still love and play video games and PC is my gaming platform for now, but i will buy PS4 one day so i can play all these exclusive games i have missed.
The modern game that i respect the most is Metal Gear Solid 5. Every thing in this game is perfect in my opinion, only storyline was too short for me.
---
What's the worst game you have ever played?
The worst game i have ever played is Ryse: Son of Rome, but i'm not blaming it for being so bad, this game originally was designed for Kinect so…
---
Finally what game or feature would you like to see on Retrogamesmaster in the future?
Well, as we are working on the game inspired by old school retro car combat games, i would be happy to see some news or review on Diesel Guns on your website, or atleast some thing dedicated to games like Twisted Metal, vigilante 8 or San Francisco Rush 2049. Thank You Very Much!